Well, bento hair came up in conversation on facebook with my sis. I am certain there is no such thing I mean I know there are no bones in the SL skeleton for hair. So my haughty self guffaws and explains why there is not such a thing… Here was my proof on the matter LOL
Then since my sis gave some examples of hair designers that are allegedly making it… I went on an informational hunt. I mean I didn't want to have to eat my words and cough them out again did I? I like to know what I am talking about. 2 designers I visited have styling options in their hair which is great! front back whatever you like over the shoulder… those are neat. Ok that is not bento is it. So then I went to Exile. At first I laughed and thought … smh… animated… so I bought it anyway and read the notecard. WOW they have gotten tricky to make this actual bento hair.
I dont know if other designers are doing it this way but Exile is doing it like this….. (from their notecard) … "this hairs movement uses the hind bones (the extra set of leg bones) so if you use a piece using those bones this hair will not work with them (I think bento horses and any sort of centaur bento might use these and would be incompatible)."
SO IT IS BENTO in a tricky way… LOL.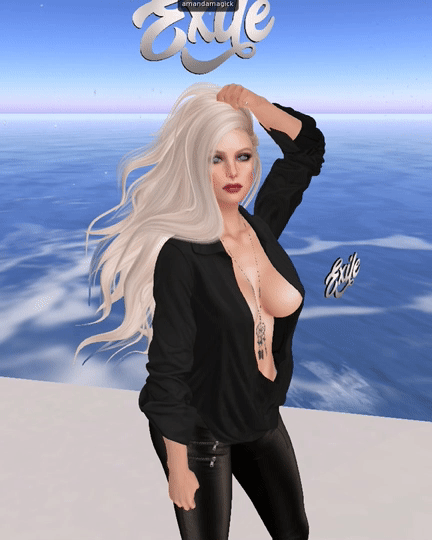 Over The Edge (bento hair) Exile LM
Please click the image to see it larger.
In this picture I am wearing Exile, Addams and Blueberry. I am at Aubry's Coffee House LM
….::::::::::AmandaMagick's connections are as follows::::::::::….
Gallerie D'Magick~new location~ 
Chamber Magick Lounge
Magick Thoughts SL Blog
Magick Thoughts SL Flickr
Magick Thoughts Facebook
Magick Thoughts Tumblr
Magick Thoughts Twitter
Magick Thoughts Instagram
Magick Thoughts YouTube
Magick Thoughts Google+
Magick Thoughts DeviantArt
If you enjoy my site please follow, share and comment!